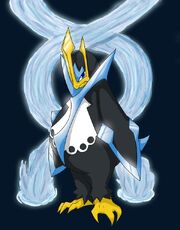 Ashley's Empoleon (Who she preferred to call him "Splash") is the only Pokemon that has never left Ashley's side (Similar to Ash's pikachu) and he has a very bold nature. Splash started out as a simple piplup, being Ashley's starter pokemon (The 2nd pokemon she had being her Luxray (Shock ♀) ). His known moves are Hydro Pump, Rock Smash, Cut, and Surf.
Splash, being Ashley's starter pokemon, went on her adventures all the time 24/7. Whenever Ashley went missing, Splash was always the first to warn the others (And if they were sleeping, he'd wake them up with a hydro pump to the face) about her disapperance. Splash has always been trustworthy and loyal to Ashley, never leaving her side. He has always been seen as Ashley's favorite, but some are not so sure.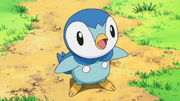 When Ashley first began, Splash was her starter-pokemon, just a normal, cute piplup. Though Ashley, in the beginning, had no intents to take care of her newest pokemon, came to trust the water-type pokemon after an incident with some beedrill (Where Splash pretty much saved her). Though after the incident, Splash had to be taken to the pokemon center, and later recovered from severe injuries. Ashley always knew that she wanted to be an eevee-trainer, but this piplup she had... he meant something more to her, and she began to raise him herself. She felt herself bonding with the little water-pokemon, and soon, they were the best of friends, always looking out for each other, and always having fun and laughing together. But things quickly changed as soon as in the episode Piplup, Prinplup where Splash evolved into a Prinplup because he trusted his trainer 100% and had grown quite a bit from being just a small, starter piplup.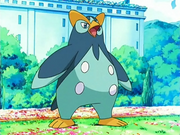 Splash began to drift away from Ashley when he evolved into a Prinplup, but in Cloud up spark high he managed to calm down the newly evolved Luxio (Which happened to be Shock ♀, Ashley's Shinx that had evolved not too long before Splash had). Shock ♀ and Splash had finally developed a kinship, which made Ashley even more happy with her Prinplup. Prinplup once again evolved into Empoleon in Ready, steady, Splash! , and since the day he evolved from Piplup, to Prinplup, then Empoleon, he's always been Ashley's Favorite Pokemon, and her starter too. Though she may have thought she'd regret choosing him in the beginning, she never regreted it after he changed from a quiet, bubbly Piplup to the strong, brave Empoleon he is.
Moves and Episodes
Edit
| Move | Episode |
| --- | --- |
| Cut | Chingling bell |
| Rock Smash | New friends, New Moves |
| Surf | Working on the right pattern! |
| Hydro Pump | Ready, Steady, Splash! |
(This Pokemon spent 20 episodes as Piplup and 15 as Prinplup)